September 15th, 2020
BIOMIMETICS & WATER FEATURES
understanding water / water as a remedy
As a starting point, a design project that also aims at being sustainable should be based on biomimetics, that is the conscious study of the biological and biomechanical processes of nature as a source of inspiration for the improvement of human activities and technology.
The history of science and technology is indeed rich in discoveries that stemmed from the observation of nature. For humans, it has always been a source of inspiration and their natural drive to mimic it turned into a proper scientific discipline, biomimetics. 'It is nothing other than a natural approach to problem solving', a part of technology inspired by the solutions that have been adopted by nature across billion years of evolution.
To have a biomimetic approach means to be able to detect and acquire new principles, strategies and reasonings from the natural environment. Taking nature as a model is also possible when ideating water features by borrowing the beauty of its phenomena and putting into place the simplest and most effective, as well as appealing and naturally sustainable solutions.
'Everything you can imagine, nature has already created'
Albert Einstein claimed: 'Everything you can imagine, nature has already created it'. Many got inspired by nature, trying to grasp its essence, secrets and spectacularity. The perfect, wild and untamed force of nature has always gathered many believers. It represents a world with unlimited potential, ready to be imitated and re-elaborated, so much so that this approach is now universally acknowledged even in architecture and design.
Studying the occurrences of water in nature consciously and thoroughly enables us to tap into boundless sources of inspiration. By observing and taking Nature as a model, benchmark and guide in the design of water tricks it is possible to find a compromise for a sustainable development and the peaceful coexistence between human beings and nature.
→ Albert Einstein in a photograph by Ferdinand Schmutzer – public domain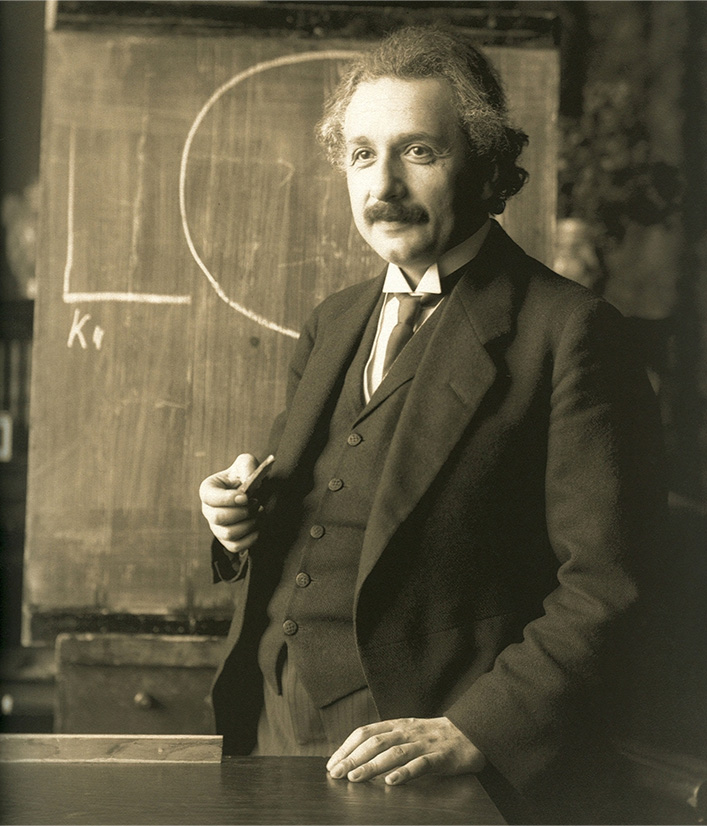 Water Shapes: Fog Effects, Drew Droplets, Giant Dandelions
The natural occurrences you can tap into are nearly limitless. Let's examine some instances of creative reinterpretation of natural phenomena with the shapes of water.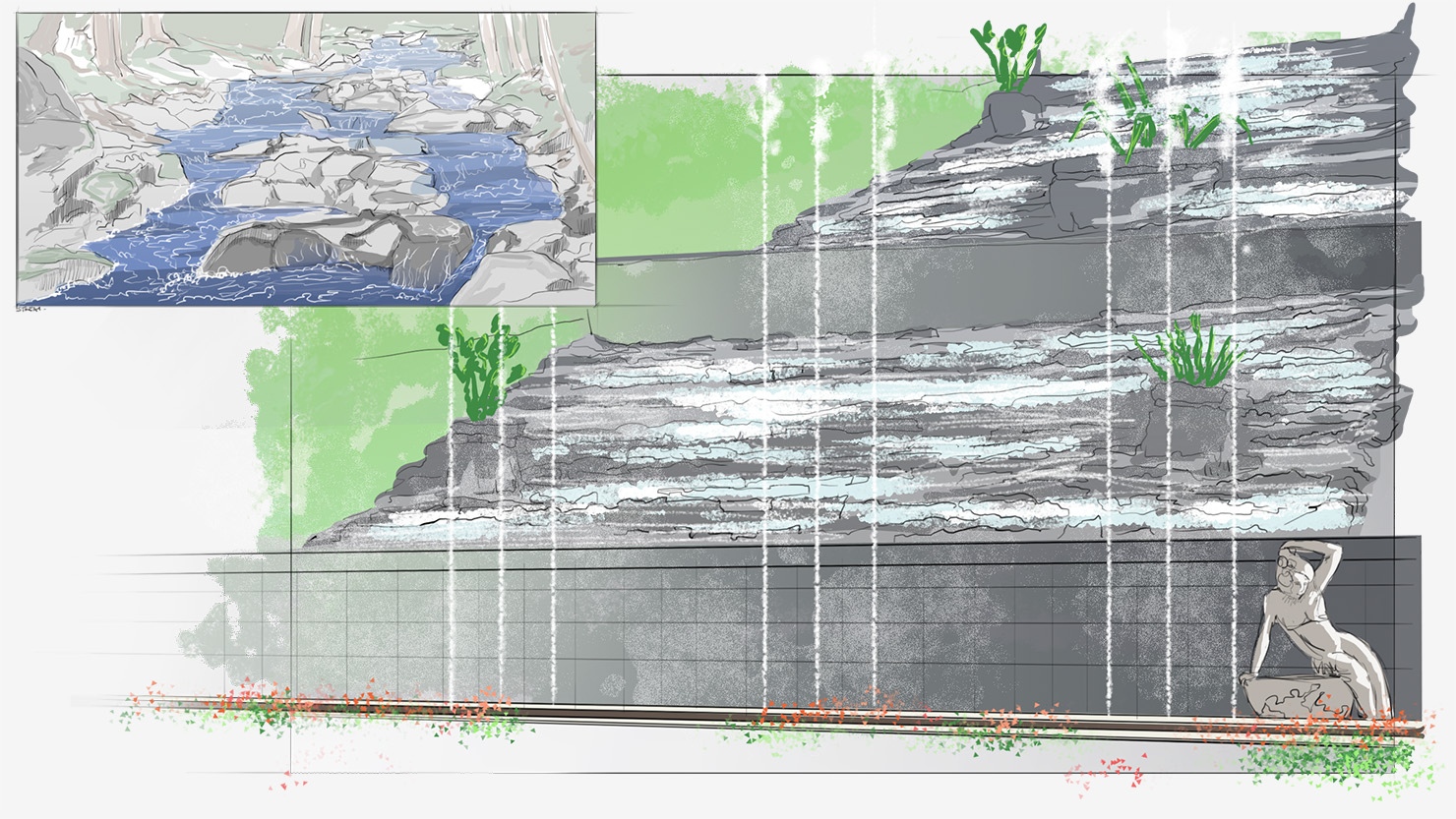 Fog Effects
First and foremost, let's focus on fog, a phenomenon that has always been capable of fascinating humankind. The morning haze at dawn, before sunrays dissipate it, slowly unveils nature when it is still plunged into slumber; when night falls quietly, it seems to play a protective role by hiding the landscape and padding it with a mystic atmosphere.
A similar effect, developed within the scope of water features, encompasses the creation of a medium-height foggy layer sprayed through nozzles hidden in openings below the paving: thanks to the light transmitted by this imperceptible support, it can take a thousand shades. Following a tradition from the 18th century, nebulized water can spread scented oils in the air: a particularly successful solution when matched with a multisensory water trick or to adorn and lighten the base of a group of sculptures or even employed as an outdoor cooling system.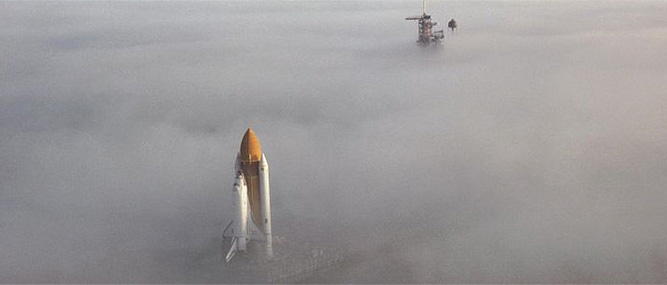 ↑ The Space Shuttle Challenger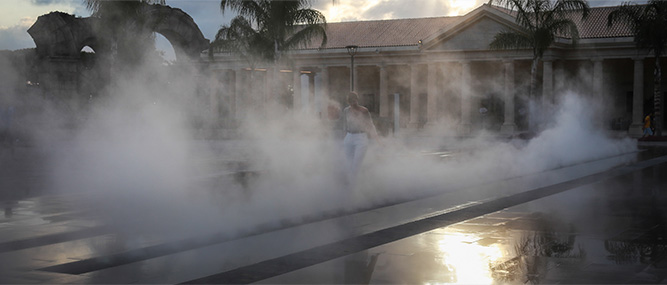 Giant Dandelions
You surely have happened, at least once in your lifetime, to blow on the seed heads of those yellow flowers that are often found in fields during summer, the so-called dandelions.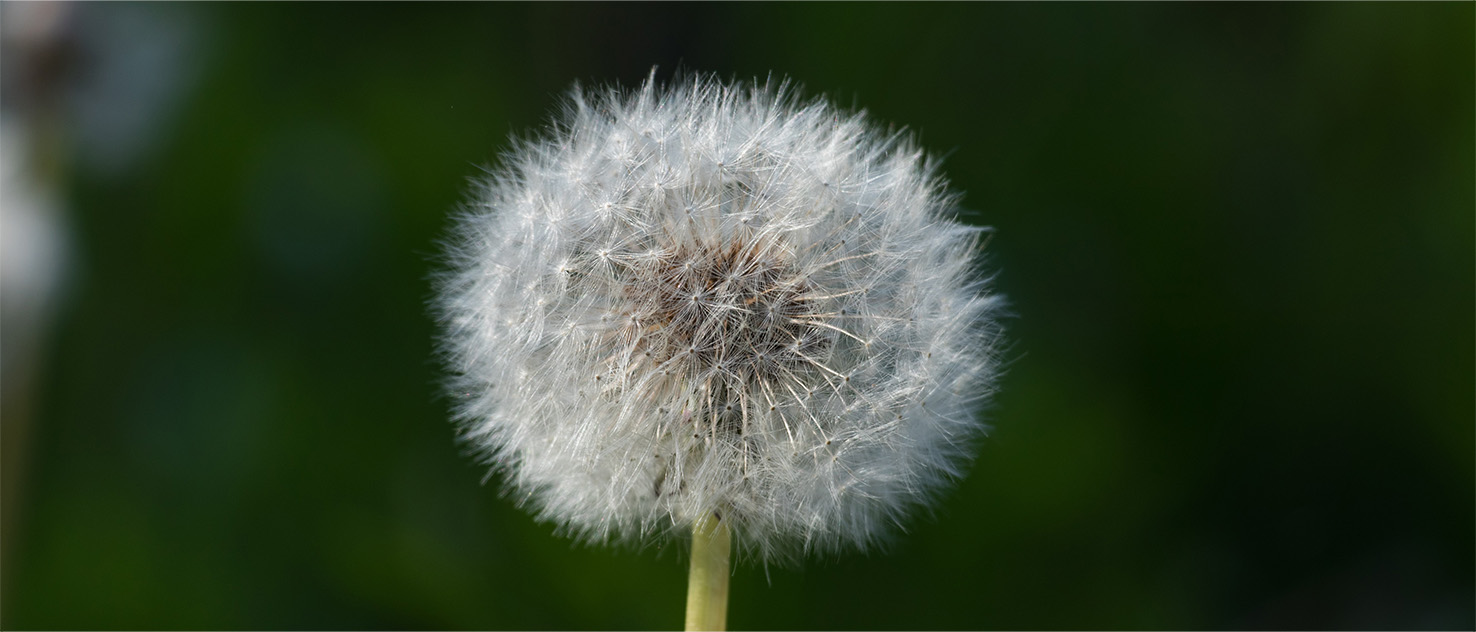 ↑ A dandelion, a large genus of flowering plants in the family Asteraceae
It is believed that the inventor of a similar effect for fountains was the Australian architect Robert Woodward, who designed the El Alamein Memorial Fountain (1959-1961) in Sydney. His sculpture is indeed made up of a sphere with 211 pipes radiating from a central bulb, where special nozzles cast radiant, thin sprays from their extremities. Like dandelion seeds blown by the wind, this spherical fountain put its roots down in many places over the world and became a standard model in the catalogs of many special components manufacturers.
By looking for a position that takes environmental factors into account and resorting to an effective water quality control system, it is therefore possible to use dozens of very thin circles of water to create a big, vaporous flower closely resembling a dandelion.
Drew Droplets
It is dawn. Thin droplets slowly roll down on the grass like threads of shiny pearls lit by the first sunrays. It almost looks like magic, but nature is always ruled by the laws of physics. In the case of dew, the water vapour that is in the air comes into contact with the soil and the plants turned cold over the night due to thermal radiation; because of the jump in temperature, vapour condensates in dew droplets capable of animating fascinating, shining silver fields.
Such an amazing natural phenomenon can be reproduced using a layer where droplets slide over mylar fibers, spaced-out like a curtain where air can pass through.
In particular, mylar belongs to the family of polyester fibers and is mainly known for its high chemical and thermal resistance and its transparent texture. Water slides over it slowly, even when falling from up high, silently and without splattering; its threads can be mounted with up to a 20% of inclination with no change in the final effect; illumination can top the exhibition in an even more captivating way.
Levitating water
This thrilling optical illusion cannot be revealed even when looking at it up close: contrary to natural laws, single water droplets fall or rise at a variable speed and slow down until they remain suspended in mid-air. The secret lies in mastering technology and laws of physics and customizing them with one's own creative and engineering talent.
More precisely, it is a device that includes a pulser pump, special nozzles and a synchronized strobe light. The latter works at a slightly lower frequency than the least required from human sight to keep continuous; in this way the strobe light intermittently lightens the water flow producing the perception of rising, falling and floating depending on the scheduled routine.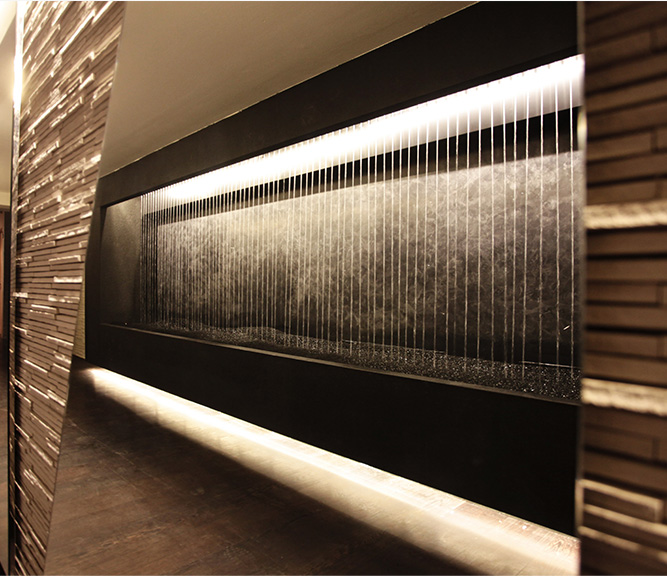 ↑ Levitating Water in Romeo Hotel